Roving Canal Traders Association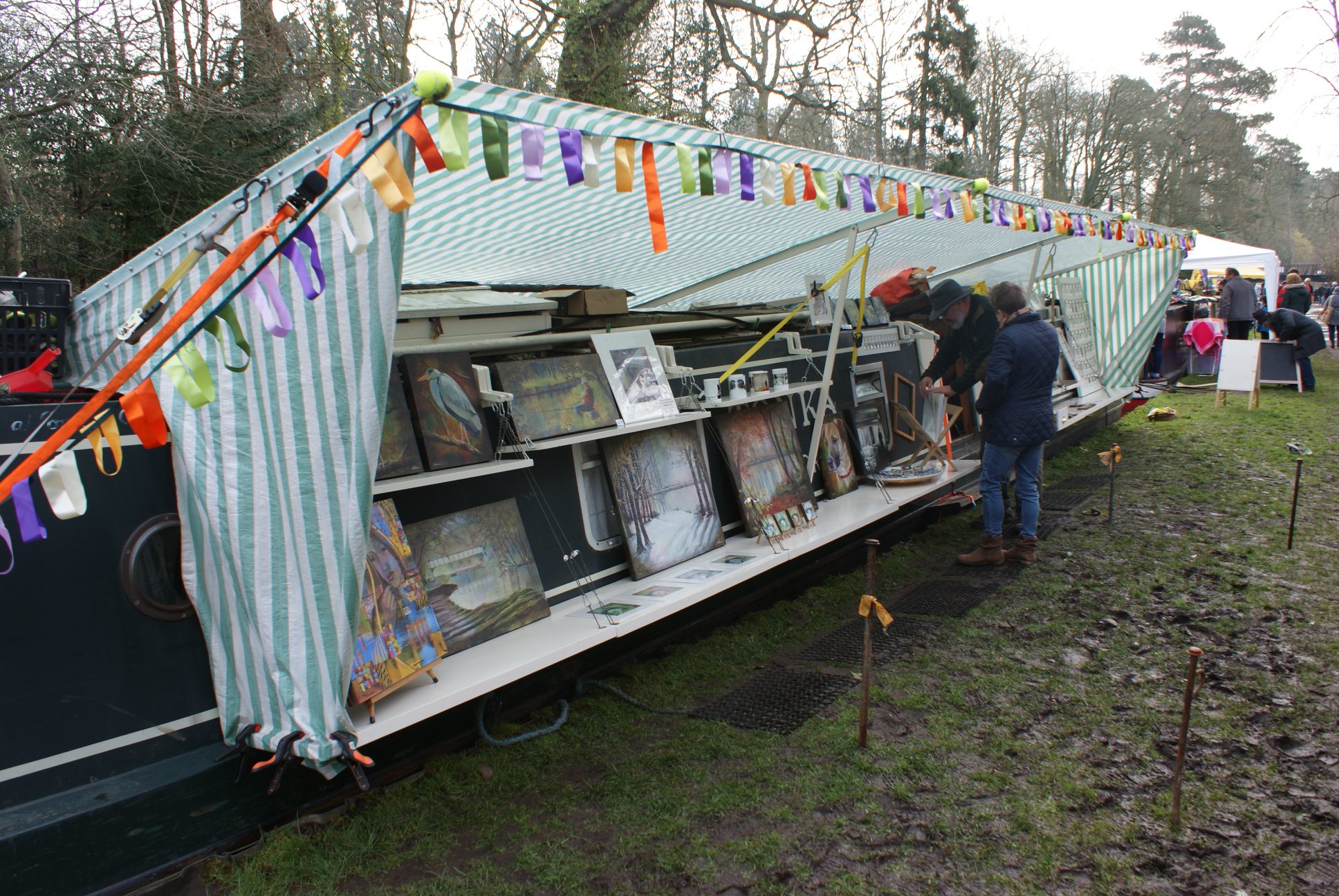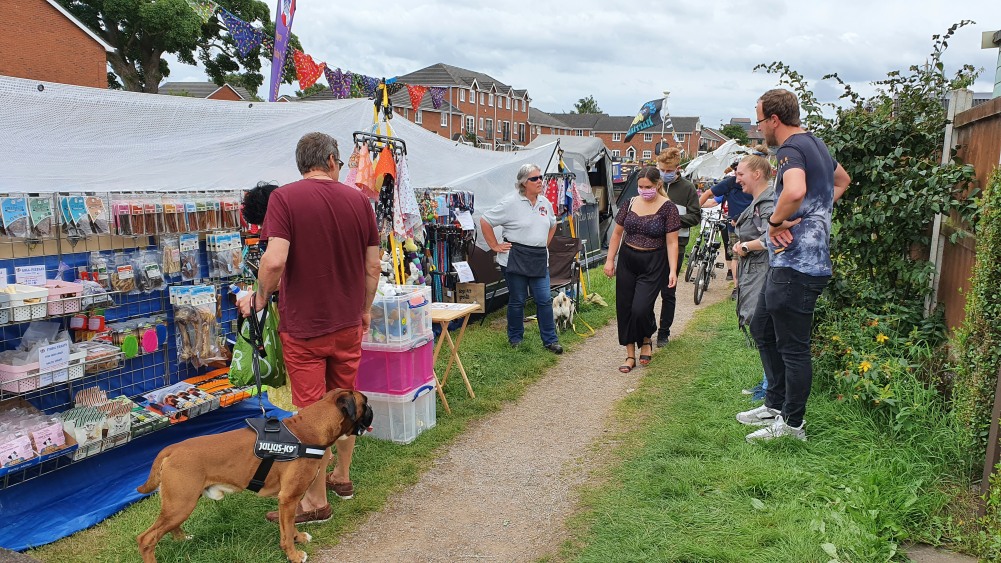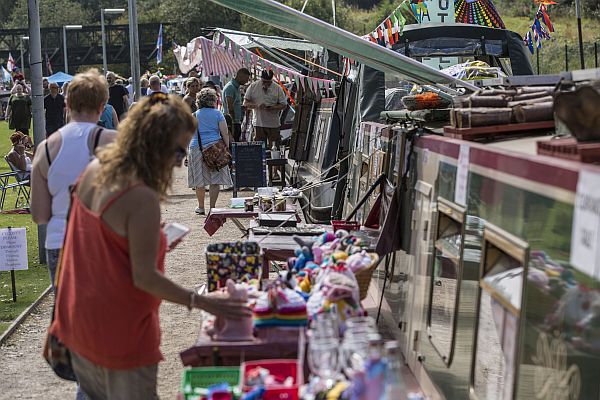 An Art Boat at a Floating Market
Floating Market at Market Drayton
Busy Market at Merry Hill
The Roving Canal Traders Association (RCTA) is a non-profit making organisation run to help support and promote the diverse array of existing and potential Canal and River Trust (CRT) registered Roving Traders on our waterways.
The RCTA was set up because CRT changed the business licence and they didn't want to talk to Roving Traders on an individual basis. All the other business licences had associations, eg hire boats, hotel boats, workboats, coal boats etc. The new licence merged coal boats (which used to be known as "High Risk Roving Traders") with Selling Roving Traders (previously known as Low Risk Roving Traders).
CRT wanted to tighten up the rules because they had a lot of "traders" selling from their boats without a licence and without Public Liability Insurance (PLI). The stickers were approved by CRT business team and the CRT website refers new traders to the RCTA. The reason for this is that the RCTA is helps educate newbies to make sure they abide by the terms and conditions of the licence, and gives advice on what other land based terms and conditions or rules needed to be applied for, eg Food Standards, PLI, tax etc.
The RCTA has been in existence for some years now, and in 2013 held its first ever floating market in Birmingham. It was a great success and fuelled thoughts of making regular floating markets a major feature of the organisations work.
2014 saw eight such markets at various venues, and things continued to grow under the influence of the Steering Committee. By October 2016, however, it became time for those people to take a well deserved break, and enjoy their own trading time on the cut. They passed over the running of the organisation to a new Steering Committee, made up from elected members and volunteers. The aim continues to be to grow the RCTA from its very solid foundations and raise its profile on the waterways. By the end of 2017, there had been 14 RCTA Floating Markets during the year; from Chester in the north, to Berkhamsted in the south.
Unfortunately, the Coronavirus of 2020 seriously affected plans for more Floating Markets than ever. Sadly, all but a few were cancelled or postponed. However, once restrictions were lifted, the Steering Committee were proactive with CRT and local authorities, resulting in a small number of reduced sized but very successful markets towards the latter part of the year. In 2021, a number of smaller markets took place, starting from the May Day Bank Holiday.
From 2022, life has been getting back to normal, and the usual Floating Markets started again in earnest. Members also run their own "Pop ups", when they trade either individually, or in small groups, at various locations around the network. Take a look at the directory to see the wonderful variety of traders that make up our membership. Most of these have websites and/or social media sites where they advertise their trading locations.
With over 130 current members, the RCTA has grown into a very successful organisation over the years. From small beginnings, it is now a respected body with an increasing number of members. It represents licenced Floating Canal Traders and works with Canal & River Trust and local authorities to run an increasing number of Floating Markets around the network. The RCTA also works hard to publicise its members through this website and offers promotional opportunities through its various Social Media accounts.
If you are a licenced Floating Trader, then why not join us and enjoy the benefits of being part of this growing and vibrate association.
In December 2016, the first ever RCTA Annual General Meeting was held in Birmingham, with 20 RCTA members in attendance. A Constitution was agreed and signed, which forms the structure for the RCTA into the future.
This RCTA website contains a mixture of general canal and river news and information, membership details and application forms (and payment), steering group details, newsletter archives, details of forthcoming floating markets, a contact page for any enquiries from both members and non members, and information about RCTA traders.
For members there is a separate login area containing relevant content. If you are a member, and do not have login details, please email web.rcta@outlook.com
We have Facebook Groups and Pages, a Twitter Account, a Pinterest board for traders, and an Instagram Account. So there's access to information for everybody whether you're a trader, a potential trader, you're interested in our traders and/or just want to visit some of the events. Please consider joining the Roving Canal Traders Group on Facebook, which is accessible to anyone on Facebook.
---
In January 2023 we came to an agreement with over 30 large UK marinas so that our members can enjoy some extra trading opportunities with benefits. Most of these are fabulous marinas owned by Aquavista, along with Mercia Marina in Derbyshire & Fradley Marina in Staffordshire.
Once you are a member of RCTA you can access full details of the trading arrangement, find out how to join us here.
---
For RCTA members, there's a specific RCTA Members Facebook Page – just ask to join, and once your details have been verified, you will be accepted.
The main aims of the RCTA are:
1) To improve trading conditions and opportunities for all licensed traders through negotiations with CRT.
2) To raise public awareness of traders and our waterways in general.
3) To help and support potential, and existing, licensed traders throughout the waterways.
There are a growing number of traders on the canals selling an increasingly eclectic range of handmade goods and giftware, and a diverse range of products. To read more about individual traders, visit our 'Traders' Directory' and be amazed!
The many traders afloat bring diversity to the waterways, and we believe also enhance the publics' experiences and enjoyment. Our aim as the Roving Canal Traders Association is to promote and enhance our unique trading community.
Join us …
We'd love for you to come and join us, and discover what we can do working alongside you – for you and your business. Email: canaltraders@outlook.com.
---
Britain's inland waterways are under threat due to inadequate funding. The funding situation is already causing deterioration and will only worsen with the challenges of high inflation and the impact of climate change, which are both at a level unforeseen when current funding was agreed. Fund Britain's Waterways (FBW) brings together a number of waterways associations to campaign to persuade national and local government to ensure that the benefits provided to the public do not continue to be eroded.
The Roving Canal Traders Association is proud to be part of this campaigning group.